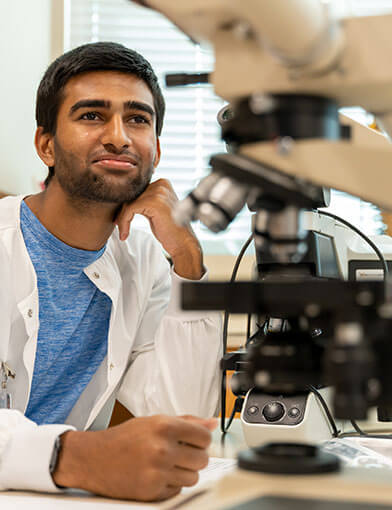 CONCORD, N.C. – For the past 80 years, Cabarrus College of Health Sciences has continuously added allied health programs to meet the demands and needs of its communities and local hospitals. Today is no exception as they join the ranks of institutions that offer a pre-med program with the addition of a new Bachelor of Science in biomedical sciences program, starting fall 2022.
The biomedical sciences program offers a four-year, pre-professional degree for students who are interested in advanced studies in medicine, dentistry, physical therapy, pharmacy or athletic training, as well as students seeking a career in areas such as microbiology, biochemistry, pharmacology or research.
"We have a tremendous opportunity to help alleviate the current and future demand for physicians and other advanced medical professionals. Our ability to provide a bachelor's degree in biomedical sciences as a pathway to so many professional schools is something we are excited to offer Cabarrus County, metropolitan Charlotte and our other surrounding communities," said Cam Cruickshank, PhD, president of Cabarrus College of Health Sciences. "As a health sciences college affiliated with Atrium Health, we offer students unprecedented access to outstanding facilities, technology, clinical opportunities and the ability to learn from some of the best care providers in the country.
In addition to being the lowest-cost private college in North Carolina, Cabarrus College recently launched four new scholarships for first-year and transfer students to help make higher education more affordable. The college's new Cabarrus Cares Scholarship covers up to 100% of tuition and general fees for students from North Carolina who enroll full time directly from high school and demonstrate financial need.
The biomedical sciences degree from Cabarrus College combines biology, chemistry, physics, human systems and foundational health professions courses, while covering the essential content and knowledge that is required for admission into graduate-level clinical and non-clinical professional programs.
Throughout the program, students gain hands-on clinical experience at Atrium Health Cabarrus and other healthcare facilities around the area. The program's hybrid format also allows students to participate in internships and other experiential learning experiences within their last two years of study.
"As a scientist, I understand the importance of a solid science foundation in one's success, no matter the career path they take. This has been a dream of mine for a long time," said Biomedical Sciences Program Chair Zinat Hassanpour. "With the development of our new partnership with Wake Forest School of Medicine, this program will help provide graduates with the solid biomedical science background needed for admission into that school and other professional schools."
Biomedical sciences is the first step toward becoming a doctor, dentist, physician assistant, forensic scientist, athletic trainer, biologist, veterinarian, pharmacist, researcher, optometrist, biochemist or another medical professional. This program sets students up for success, regardless of career path.
For more information on Cabarrus College and the biomedical sciences program, visit BiomedicalSciences.CabarrusCollege.edu.
About Cabarrus College of Health Sciences
Cabarrus College of Health Sciences is a private, nonprofit college for healthcare professions in Concord, North Carolina, that offers immersive, innovation education in eight healthcare career fields. Located on the campus of Atrium Health Cabarrus, the college is affiliated with Atrium Health and offers one- to four-year health career programs, including undergraduate and graduate degrees.
For more information on Cabarrus College of Health Sciences, visit CabarrusCollege.edu.