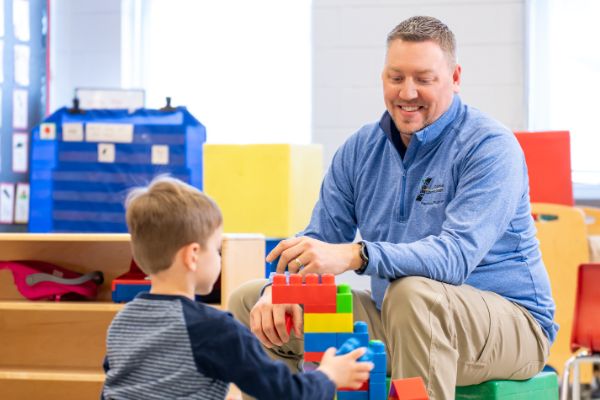 Few things are more rewarding than helping someone overcome a health challenge and get back to living their best life. Occupational therapists do that every day.

If you're a practicing occupational therapy assistant, with or without a bachelor's degree, we have a track to help you become a licensed occupational therapist, directing the treatment and care of patients with a variety of needs.

Students who graduate with the master's degree in Occupational Therapy will be able to:
Utilize the foundational knowledge, clinical reasoning, and skills to become qualified entry-level occupational therapists in current and emerging areas of practice.
Practice client-centered, evidence-based, and culturally sensitive therapeutic services.
Display the professional behaviors and communication skills for successful client and inter-professional collaboration and to promote efficacy of the profession.
Incorporate the benefits of engagement in occupation on health and wellness throughout the lifespan.
Employ sound ethical behaviors, values, and attitudes that uphold AOTA's Code of Ethics and professional standards.
Articulate the value of lifelong learning, professional advocacy, and leadership in a contemporary healthcare environment.
The Occupational Therapy program supports the profession's fundamental belief that human beings have an innate desire to engage in meaningful occupations, and the ability to participate in such activities has a positive impact on health and well-being. Occupational therapists therefore focus on enhancing participation in meaningful occupations through engagement in active learning experiences. The philosophy of the Cabarrus College Occupational Therapy program is also founded on the belief that individuals learn through active engagement with their environment, and therefore, the role of the educator is to facilitate student learning through engagement in meaningful experiences. As certified OTAs, the Cabarrus College occupational therapy students have unique and diverse experiences on which to build new knowledge and skills; and as adult learners, will benefit from self-guided, collaborative, and reflective learning experiences relevant to their professional development.
The Occupational Therapy program design includes the following themes threaded throughout the curriculum:
Professional Development
Critical Thinking/ Clinical Reasoning
Client-Centered Practice
Health and Wellness Promotion
Communication and Documentation Skills