Success in Healthcare Starts with a Solid Foundation
Whether you're applying to a competitive professional school – medical, dental, physician assistant, etc. – or seeking a career in areas such as microbiology, pharmacology or research, a solid foundation in science sets you up for success. Take your next, best step toward a rewarding, prosperous career and professional success at Cabarrus College.
Program Highlights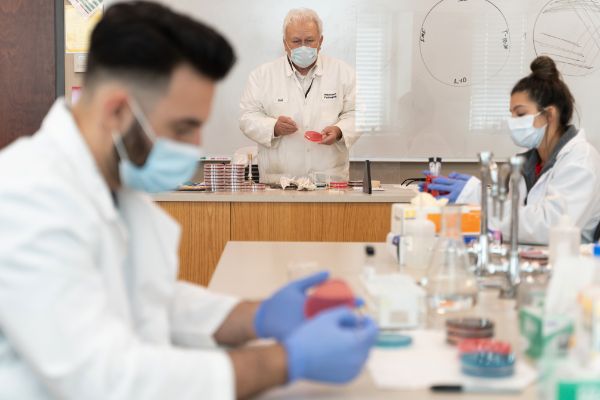 Four-year Bachelor of Science degree
Hybrid format: on-campus gateway courses and labs with online upper-level courses that offer flexibility for internships
Pre-professional pathway for students seeking admission into graduate-level healthcare, science and research programs, with flexible career pathways to:


Medical, dental, optometry, veterinary and osteopathic medicine
Physician assistant, chiropractic medicine, physical therapy, speech language pathology, athletic training, cardiovascular perfusion and medical laboratory science
Biochemistry, microbiology, pharmacology, physiology, pathology, forensic science, research and development or postsecondary teaching

Prepares students for high-demand, entry-level healthcare or science careers in areas such as research, biochemistry, microbiology or pharmacology
Holistic, flexible curriculum sharpens communication and critical thinking skills and allows you to choose coursework based on personal interests, including financial management, research and reporting, epidemiology, environmental health, leadership, wellness and mindfulness
Employment for healthcare professionals is projected to grow much faster than average through 2030 including physician assistants (31% increase), speech language pathologists (29% increase), athletic trainers (23% increase) and physical therapists (21% increase). (Bureau of Labor Statistics, 2021)
Low student-to-faculty ratio and small classes ensure individualized instruction and mentoring
Hands-on experiential learning including a capstone allowing students to choose a professional focus
Affiliated with Atrium Health and the new Wake Forest University School of Medicine Charlotte campus opening in fall 2024
Program Goals
The goals of the Bachelor of Science in Biomedical Science program are to prepare its graduates for:
Transferring foundational and conceptual knowledge to authentic situations.
Functioning as part of a collaborative team through effective communication.
Applying diverse learning experiences to personal and professional growth.
The curriculum associated with Cabarrus College of Health Sciences' BS in Biomedical Sciences is intended to accomplish the following learning outcomes:

Communicate science in multiple media.
Explain the regulatory mechanisms which control the operation of natural and physical systems.
Demonstrate proficiency in the experimental techniques and methods.
Elucidate communication methods within the health care industry.
Evaluate ethical conduct in scientific activities.
Discuss the scope of practice of the various health professions within the context of the health care system in the United States