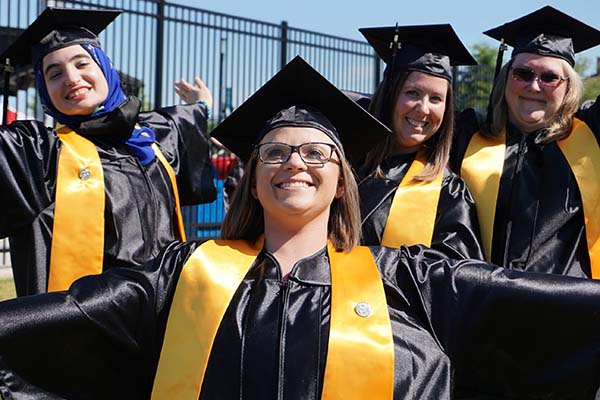 As a graduate of Cabarrus College of Health Sciences, you are our greatest asset! Your success is what makes our college the most attractive option for prospective students.<
Let us know about your career development, honors and awards, volunteer activities and more by contacting our Alumni Affairs Office at 604-403-1614.
Cabarrus College's alumni association, the 1942 Club, celebrates the founding of the college in 1942 and its 80+ years of educating exemplary healthcare professionals. The 1942 Club helps preserve the college's legacy, cultivates stronger relationships among alumni, enhances alumni connection to the college and focuses on the future by contributing to the healthcare profession and the wider community.
The 1942 Club also funds the 1942 Club Scholarship, a $1,000 scholarship for new undergraduate students at Cabarrus College. To qualify, students must have a GPA of 3.0 or higher and demonstrate financial need through completion of the Free Application for Federal Student Aid (FAFSA). The first 1942 Club Scholarship was awarded in fall 2022.
Get more information on joining the 1942 Club.
Each Spring and Winter Commencement, the Alumni Association presents Excellentia pins to all degree-seeking graduates with a cumulative GPA of 3.75 or higher. Members of our Alumni Association Executive Board have the honor of presenting these pins to the recipients at the Graduate Breakfast, which is held the morning of the Commencement ceremonies.
During exam week of the Fall Semester, the Alumni Association hosts exam breaks in the Hayes Student Pavilion. Members of our Alumni Association serve refreshments to students, while they prepare to take their final exams. This tradition is quite popular with our students!