As healthcare systems shift to preferring or requiring that nurses be educated at the bachelor's degree level, our online RN-to-BSN program provides an excellent opportunity for working registered nurses seeking the opportunities that come with a bachelor's degree. Benefit from the rich experience of your instructors and peers in a collaborative learning environment as you take your nursing career to the next level.
Mission
To cultivate competent, caring nurse professionals through exemplary education and promotion of lifelong learning.
Program Highlights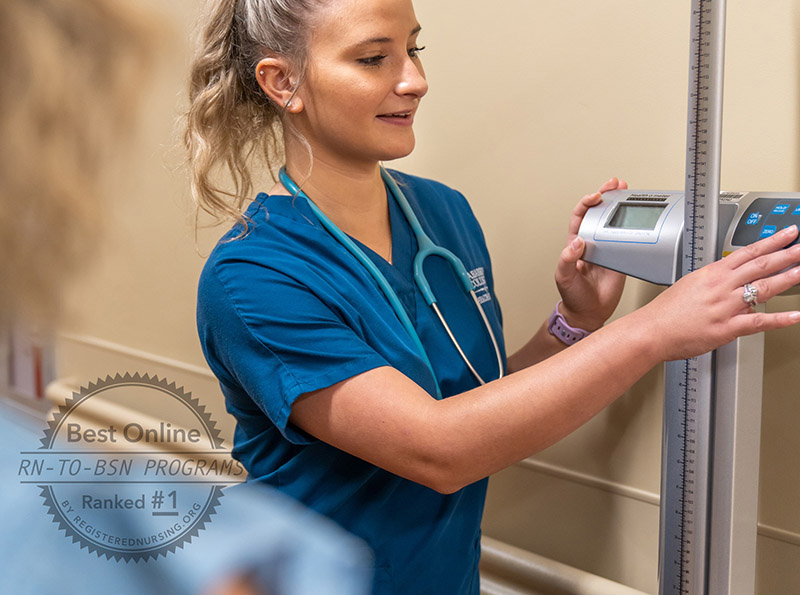 Perfect for working nurses who want to advance their careers
100% online; no clinical required
Develop leadership skills and expand skills in utilizing science to provide patient-centered care
Prepare for collaborative roles in promoting health for patients, families and communities
Flexible, with full-time and part-time options
Five-week course blocks
Affordable: generous loans and financial aid available
Credits awarded for diploma or associate degree work and related work/life experience
Focus on population health, leadership and service
Opens the door to more varied employment opportunities, career progression and professional certification in a nursing specialty
Exceptional, nationally recognized, clinically trained faculty
Fast-track application for Atrium Health teammates and alumni of Atrium Health-affiliated colleges: NO fee, essay or references required
Start in fall or spring
Program Goals
To provide an avenue for flexible, seamless progression for ADN-RNs to obtain a Bachelor of Science degree in Nursing
To prepare ADN-RNs for professional advancement by expanding skills in utilizing science to provide evidence-based patient-centered care.
To prepare graduates for collaborative roles in promoting health for patients, families and communities.
Demonstrate core nursing concepts of compassion, caring, and advocacy while caring for disparate clients in various health care settings.
Function as a clinician, advocate, educator, and health care leader in promoting health and providing care to diverse individuals, families, populations, and communities.
Utilize evidence-based practice and clinical reasoning to deliver professional prioritized nursing care to clients within various health care settings.
Form effective collaborative multidisciplinary health care teams composed of clients, families, and other health care professionals.
Incorporate health information and information technology to promote quality improvement while developing a workplace culture of safety.
Integrate critical thinking and clinical reasoning skills to provide quality nursing care to individuals, families, and communities.