Cabarrus College's Community Health and Wellness program educates professionals who protect and improve the health and well-being of people and communities. This is Cabarrus College's public health degree.

What can you do with a degree in public health? You can educate people about the risks of alcohol and tobacco, eating disorders or teen pregnancy. You can conduct research or track disease outbreaks. You can develop school nutrition programs to ensure children have access to healthy food. You can advocate for laws and standards that keep people safe in their homes, cars and workplaces. You can help prevent diseases and injuries before they happen. The possibilities go on and on.
Mission - Promote healthy lifestyles, protect health and well-being and make a difference with our degree in Community Health and Wellness.

Vision - To be a notable change agent of community health and wellness through superior health education.
Program Highlights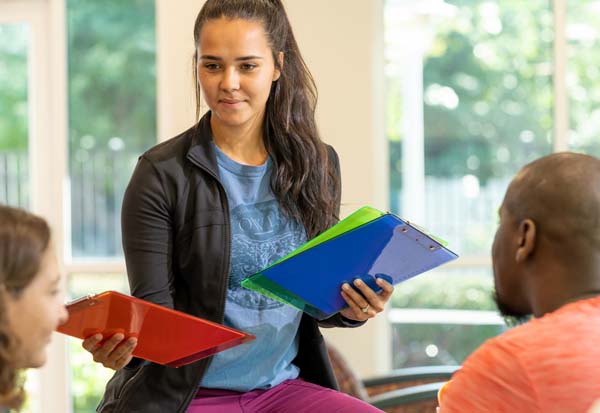 Four-year Bachelor of Science degree
Customize your academic curriculum based on your passions and interests
Large variety of career options improving health for people from all walks of life including health educator, case manager, wellness coach, health navigator, occupational health and safety professional, first responder, health researcher and more
Work alongside community and public health professionals as early as your first year
High-demand field with employment expected to grow 17% through 2030 (Bureau of Labor Statistics, 2022)
Hybrid program: Online coursework with community-based fieldwork and research; clinical track requires on-campus labs and a practicum within a medical facility
Flexible, with full-time and part-time options
Whole-person approach with coursework in nutrition, community health, lifestyle medicine, determinants of health, health maintenance, healthcare services, disease prevention, patient navigation, community health education and holistic care

The goals of the Bachelor of Science in Community Health and Wellness program are:
Provide students with the knowledge, skills, and abilities needed to succeed in the professional fields of community health, disease prevention, lifestyle medicine, and health navigation.
Prepare graduates to incorporate research and health assessments in health-related careers such as certified health education specialists, wellness coaches, and lifestyle medicine practitioners.
Provide multiple opportunities for students to specialize within the overall program of student.
At the completion of the program, students will be able to:
Discuss themes in community health, lifestyle medicine, and whole-person health.
Examine health-related data to assess health needs for a community.
Exhibit competence in developing planned health educational programs and interventions related to health promotion within the community.
Demonstrate proficiency in effectively communicating pertinent health information to a diverse population.
Utilize ethical practices in the application of community health research.
Create innovative ideas related to health maintenance and disease prevention.
Evaluate the diverse factors that influence health and wellness.