Find the passion you've been missing – and unlimited career options – with Cabarrus College's Accelerated Bachelor of Science in Nursing, designed for those with a bachelor's degree in any field.
Program Mission
Cultivate competent, caring nurse professionals through exemplary education and promotion of lifelong learning.
Program Highlights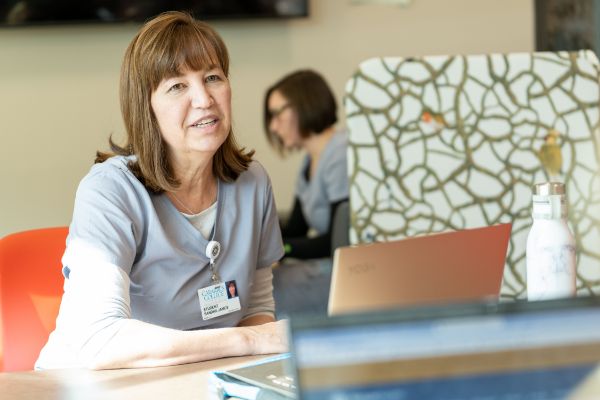 Build on your existing bachelor's degree to earn a degree in nursing
Finish in as little as four semesters
Flexible degree offers work/life balance
Immersive learning on an Atrium Health hospital-based campus
Individualized instruction in small classes
Hands-on clinical experience starts as early as first semester, enabling you to apply concepts learned in class right away
Additional skills practice in high-tech simulation labs on campus and at Atrium Health
Affordable: generous financial aid and forgivable loans
Affiliated with Atrium Health:

Preferred access to Atrium Health clinical sites
Learn from the region's most experienced healthcare professionals
Access to leading-edge technology
Pipeline to jobs in one of the country's largest healthcare systems
Program Goals
Graduates will achieve an annual NCLEX-RN pass rate for first-time writers equal or greater than the annual national average for BSN graduates, but not less than 80%.
Seventy percent (70%) of incoming students will graduate within 150% of the advertised program length of program (150% = 2.5 years)
Ninety percent (90%) of graduates will be employed as a registered nurse within 1 year after graduation.
Ninety percent (90%) of graduates responding to the Graduate Survey will self-evaluate they successfully achieved the Program Student Learning Outcomes (PSLOs).
Ninety percent (90%) of graduate employers responding to the Employer Survey will evaluate the graduate as successfully achieving the Program Student Learning Outcomes (PSLOs).
Upon completion of the Accelerated Bachelor of Science in Nursing program, students will be able to:
Demonstrate core nursing concepts of compassion, caring, and advocacy while caring for disparate clients in various health care settings.
Function as a clinician, advocate, educator, and health care leader in promoting health and providing care to diverse individuals, families, populations, and communities.
Utilize evidence-based practice and clinical reasoning to deliver professional prioritized nursing care to clients within various health care settings.
Form effective collaborative multidisciplinary health care teams composed of clients, families, and other health care professionals.
Incorporate health information and information technology to promote quality improvement while developing a workplace culture of safety.
Integrate critical thinking and clinical reasoning skills to provide quality nursing care to individuals, families, and communities.
Upon graduation from the ABSN program and verification by Cabarrus College that education requirements are met, students are eligible to apply to take the National Council Licensure Examination - Registered Nurse (NCLEX-RN). Graduates passing the exam and meeting board requirements will receive the legal title of Registered Nurse (RN) from the North Carolina Board of Nursing (NCBON). Should graduates be unsuccessful on the exam, they may repeat the exam at subsequent intervals.

As Atrium Health and many other healthcare organizations seek nurses with a bachelor's degree, getting a ABSN offers many benefits:
More varied employment opportunities
Career progression and increased responsibly
Opens the door to professional certification in a nursing specialty
Foundation for pursing a master's degree