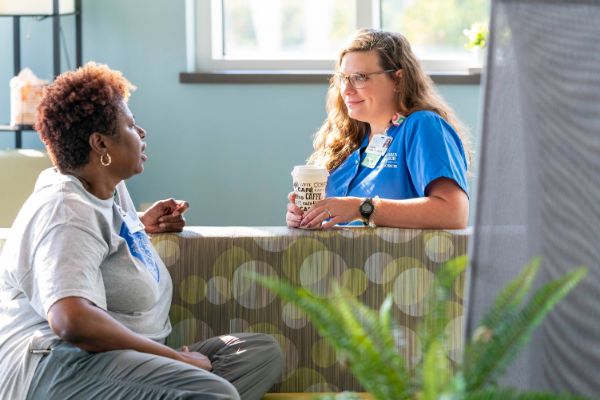 Change may be the only constant in today's healthcare world. You can change the trajectory of your career and shape the evolution of healthcare with our bachelor's degree in Health Sciences Leadership and Development.

Our unique bachelor's degree completion program enables those with an associate degree and an interest or experience in the healthcare field to build on their existing degree to earn a bachelor's degree in just two years. There are two tracks to choose from: Leadership or Education.
Develop your leadership skills with the leader in healthcare education.
Program Highlights
Two tracks: Leadership and Education
Must have an associate degree to apply; healthcare experience preferred
Prepare for a leadership or educational position in healthcare
Improve your communication skills by understanding interprofessional team dynamics
Learn and apply best practices in workforce education and talent development
Build a foundation for graduate education
Online classes plus an internship
Flexible, with full- and part-time options
Fast, seamless application process for Atrium Health teammates and alumni of Atrium Health-affiliated colleges: NO fees, essay or references required
Class topics include interprofessional team dynamics, professional communication, leadership and healthcare management, current trends in health delivery, informatics, legal and ethical issues, healthcare quality and compliance, and teammate development
The goals of the Bachelor of Science in Health Sciences Leadership and Development program are:
To educate and prepare allied health professionals for expanded roles in leadership and workforce development.
To provide multiple pathways for allied health professionals to obtain master's level education.
At the completion of the program, students will be able to:
Differentiate the roles of the interprofessional healthcare team.
Effectively communicate in the professional environment.
Practice diverse leadership skills appropriate to the profession.
Implement best practice decision-making strategies to effectively oversee clinical staff or clinical students.
Utilize critical thinking skills to adapt to the current trends in healthcare.
Evaluate legal and ethical behaviors in the healthcare setting.
Interpret quality and compliance measures associated with healthcare delivery.
Apply best practices in workforce education and development.