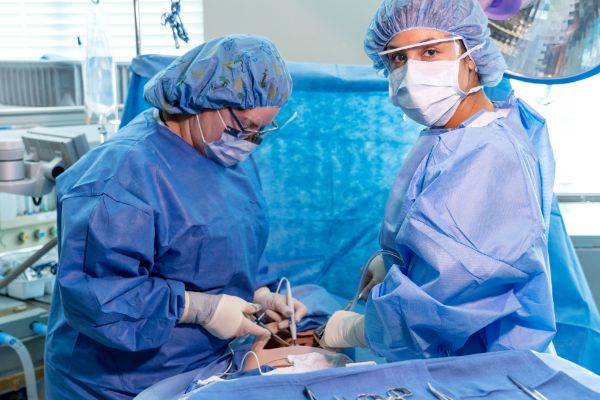 In just two years, you can become a surgical technologist, helping improve and save lives as a vital part of the team in the operating room(OR). In our Surgical Technology program, you'll learn from seasoned professionals who've worked in the OR for years, and you'll log extensive hours there yourself. Starting your very first month, you'll practice your skills in the OR every single week all the way through graduation. Our affiliation with Atrium Health also offers advantages you won't find in other programs.

Take a closer look at how you can make a difference in this high-demand, exciting field.
Degree Options
Associate Degree - Two-year program
Associate Degree Bridge - (enables surgical technologists with a diploma to earn an associate degree) - Two semesters
Program Highlights
Innovative certifications such as robotics included in the curriculum
Extensive hands-on operating room experience starting the first semester
High certification pass rate (well above the national average)
High-demand field; 100% of graduates are employed six months after graduation
Enroll full-time or part-time.
Start in fall semester only
Affiliated with Atrium Health:

Preferred access to Atrium Health clinical sites
Learn from the region's most experienced healthcare professionals
Access to leading-edge technology
Pipeline to jobs in one of the country's largest healthcare systems
Demonstrate the application of anatomy and physiology concepts to meet current industry standards in the surgical setting.
Demonstrate aseptic technique and a sound surgical conscience when performing surgical procedures in the health care setting.
Develop a sound surgical conscience in regard to perioperative routines and procedures
Apply knowledge of AST Core Curriculum by completing and passing the CST examination.
Develop skills useful to function collaboratively as a member of the healthcare surgical team
Apply knowledge gained in the clinical experience and build upon classroom instruction to become an integral part of the surgical team.
Display entry-level competencies while functioning in the field of surgical technology.
Facilitate optimal surgical patient outcomes by communicating effectively with a multidisciplinary team.
Analyze the communication process and its relationship to patient-centered care.