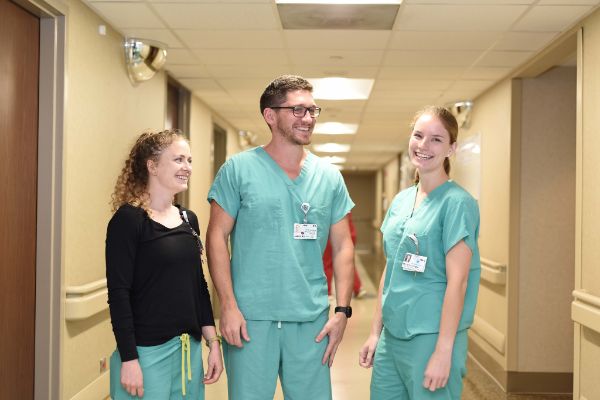 Now, more than ever, front-line nurses need steady, decisive leaders. Shape the future of nursing and elevate your nursing career with our online Master of Science in Nursing. We offer two tracks: Leadership and Clinical Research, preparing you for advanced roles in a wide array of healthcare settings.
Applicants must be registered nurses who have earned a Bachelor of Science in Nursing (BSN). We encourage interested nurses without a BSN to apply to our RN-to-BSN program.
Program Highlights
Affordable: Highly competitive price per credit hour – and only 35 credits for the clinical research track and 36 credits for the leadership track – mean you can get your master's degree without breaking the bank
Perfect for working nurses who want to advance their careers
100% online classes, plus a practicum experience
Leadership track provides in-demand leadership skills in lean principles, workplace mental health and population health, including a practicum experience
Clinical Research track prepares nurses to drive innovations in patient care and treatment and includes a practicum experience
Flexible to help maintain work/life balance; full- and part-time options
North Carolina Forgivable Education Loans for Service available
Fast-track application process for Atrium Health teammates and alumni of Atrium Health-affiliated colleges; NO application fee, essay or references required
Provides the foundation for a Doctor of Nursing Practice (DNP) or PhD
Start in fall or spring
---
Themes of the MSN include the discovery of self, transformation in others, and innovation in systems.
Mission
The mission of the Louise Harkey School of Nursing is to cultivate competent, caring nurse professionals through exemplary education and the promotion of lifelong learning.
Goals
To educate and prepare nurses for leadership roles in nursing and clinical research
To provide multiple pathways for nurses to obtain master's level education.