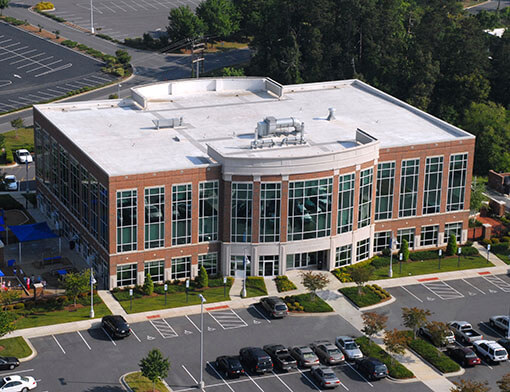 CONCORD, N.C. – Cabarrus College of Health Sciences, in partnership with Cabarrus County School System and Atrium Health, will launch the Cabarrus Health Sciences Institute (CHSI), an early college high school, in August 2022.
CHSI, which is pending budget approval from the N.C. General Assembly, will expand students' opportunities for educational and career success and create a pipeline of highly qualified healthcare professionals who mirror the diverse population of Cabarrus County. The early college will emphasize enrolling first-generation college students, underrepresented families, students of color, students from diverse backgrounds, students who are at-risk of dropping out before attaining a high school diploma and students who would benefit from accelerated academic instruction.
"We are excited to partner with Cabarrus County Schools and Atrium Health to offer an educational pathway for students in Cabarrus County who are interested in a healthcare career. The Cabarrus Health Sciences Institute will provide students from underserved and underrepresented communities with an opportunity to obtain the training and the required skills to pursue a career in healthcare and to help build stronger and healthier communities," said Cam Cruickshank, PhD, president of Cabarrus College of Health Sciences.
"This is an opportunity for us to create a pipeline of highly skilled and well qualified healthcare professionals who wish to make an impact in their community. We are honored to have the opportunity to provide so many students with a pathway to a healthier future."
Tuition for students who are enrolled in CHSI will be subsidized by the state through the cooperative innovative high school program, making the early college tuition free for all students.
"Cabarrus County Schools is excited to announce the opening of the Cabarrus Health Sciences Institute in partnership with Cabarrus College of Health Sciences. This partnership, beginning in the fall of 2022, will provide more opportunities for our students to engage in additional college and career pathways," said John Kopicki, EdD, superintendent of Cabarrus County Schools. "The Cabarrus Health Sciences Institute helps ensure a diverse workforce in the future of Cabarrus County healthcare."
All students who attend CHSI will enroll in college courses while in high school and will graduate from high school with a minimum of a nurse aide certificate and coursework toward a college degree. Based on their program of interest, students may also earn a Cabarrus College diploma or degree, making them fully prepared for entry into the Atrium Health workforce.
With customized course pathways, including medical assisting, occupational therapy, nursing, surgical technology and life sciences, students have maximum flexibility to choose their academic journey based on their needs, interests and abilities. Regardless of their pathway, students will graduate as certified nurse assistants and will have gained the skills and knowledge to transfer into multiple healthcare fields.
"This program will help prepare more students interested in healthcare careers by providing the training they need to get a job at Atrium Health and help us serve our community. We are helping individuals in underserved areas become job ready with skills and competencies to become the next generation of healthcare workers," said Gerard Camacho, assistant vice president of learning and career development at Atrium Health. "Programs like these help members of our community, who may need to start working right after high school or who are interested in the field, get hands-on experience at an early age and help propel them into healthcare careers."
Students who enroll in the medical assistant track will graduate with a college diploma after four years and will be eligible to sit for the American Association of Medical Assistants certification exam.
The surgical technology track includes five years of coursework with students graduating with an associate degree in surgical technology. Graduates will also be eligible to sit for the National Board of Surgical Technology and Surgical Assisting certification exam.
Students who choose the occupational therapy assistant and nursing tracks will have completed general education coursework and the first year of major coursework toward an associate and bachelor's degree after five years at CHSI, giving them an opportunity to pursue advanced degrees.
The final track offered is for students who are interested in healthcare careers outside of the clinical programs offered at Cabarrus College. Students in the life sciences track will earn an Associate of Science in life sciences by the end of twelfth grade and will have the opportunity to enter a four-year program at Cabarrus College or another institution, based on their career goals and interests.
Located on the Atrium Health Cabarrus/Cabarrus College campus, CHSI students will take college classes and participate in labs alongside their traditional college student counterparts. They will also engage in seminars to foster team building, interprofessional education, problem solving, college readiness, personal growth and exploration of health science careers.
About Cabarrus College of Health Sciences
Cabarrus College of Health Sciences is a private, nonprofit college for healthcare professions in Concord, North Carolina, that offers immersive, innovation education in eight healthcare career fields. Located on the campus of Atrium Health Cabarrus, the college is affiliated with Atrium Health and offers one- to four-year health career programs, including undergraduate and graduate degrees.
For more information on Cabarrus College of Health Sciences, visit CabarrusCollege.edu.