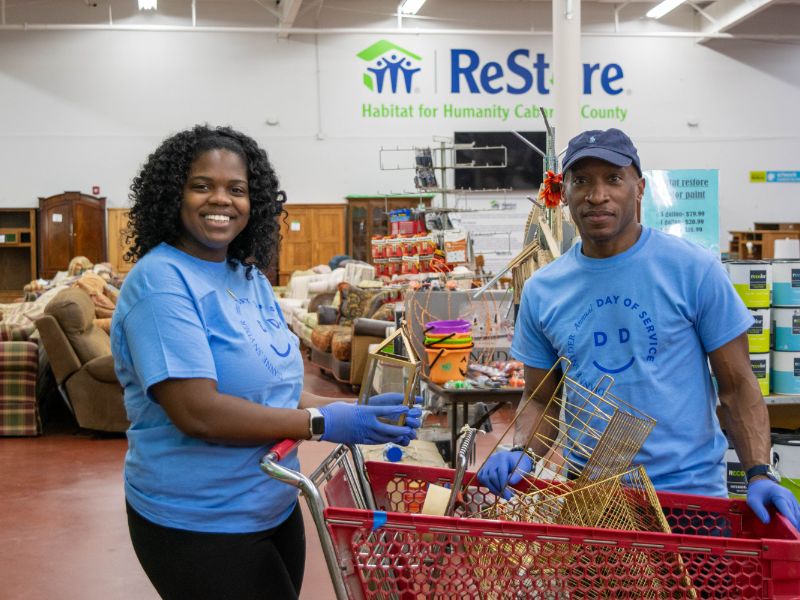 CONCORD, N.C. – Cabarrus College of Health Sciences celebrated its annual Dr. Dianne Snyder Day of Service on Friday, September 15. This annual day of service, which was established in 2019 to honor the college's president emeritus, Dr. Dianne Snyder, happens every year in September when groups of students, faculty, and staff from the college volunteer at area community organizations.
120 faculty members, staff, and students volunteered at eight local organizations and charities, which included: 1Can Inc., Atrium Health Cabarrus' Healing Garden, Boys & Girls Club of Cabarrus County, Cabarrus Big Brothers Big Sisters, Coltrane Life Center, Habitat for Humanity ReStore, Junior Charity League of Concord, and Vietnam Veterans Park in Concord. Volunteers completed tasks such as weeding and planting at both the Atrium Health Cabarrus Healing Garden, leading activities at the Coltrane Life Center, washing buses and cleaning cubbies at Boys and Girls Club, sorting and folding clothes for local children and families at the Junior Charity League, and collecting and unloading donations at the ReStore.
"Dr. Snyder's 11-year tenure as president of Cabarrus College was deep-rooted in service, leadership, and compassion," said current Cabarrus College president Dr. Cam Cruickshank. "It is with great pleasure that the college continues her legacy of volunteer work at local nonprofits and community organizations."
Volunteers at 1Can packed 634 pounds of food for eight street bins, put together 200 meals on wheels and 10 hygiene bins, and filled two blessing box bins. "This means the world to the 1CAN organization and will make a difference in the lives of 200 individuals," said Sheryl Kluge, founder of 1Can Inc., a non-profit organization created to reduce the number of children, adults, and families suffering from food insecurity in Cabarrus County.
Dr. Kendricks Hooker, Cabarrus College provost and current board member for Habitat for Humanity of Cabarrus County, participated in his first Dianne Snyder's Day of Service at the Habitat Cabarrus ReStore in Kannapolis. "This was a great event to spend time with students while working toward a very worthy cause," said Hooker. All proceeds from the Habitat Cabarrus ReStore are used to help build strength, stability, self-reliance, and shelter for families in Cabarrus County.
The Dianne Snyder Day of Service is part of a social impact initiative within Cabarrus College's strategic plan. One of those initiatives involves social impact. The goal is to make a positive impact on the communities the college serves by partnering with community organizations, improving access to Cabarrus College education, and creating an inclusive, welcoming, and supportive environment which provides a sense of belonging for all.