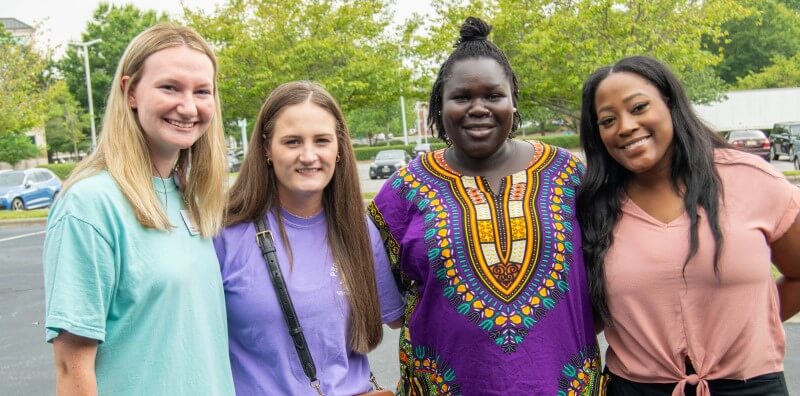 Cabarrus College of Health Sciences welcomed a record fall class of 344 new students to ring in the start of the 2023-2024 academic year. This incoming class is also part of the largest fall enrollment in the college's 81-year history, setting a new milestone for total enrollment of 773 students on the first day of classes, 245 more students than last year. "The investment made to the growth of Cabarrus College of Health Sciences over the last few years has provided an avenue for a greater number of people to enter the healthcare field to meet community needs," said Dr. Kelly Propst, Chair of the Cabarrus College Governing Board. "It is thrilling to see how the college can collectively change the trajectory of healthcare by preparing future clinicians to provide compassionate care for all."
Over the last three years, Cabarrus College has experienced unprecedented growth during a time when other four-year private institutions have seen a decline. As hospitals in the region and across the nation continue to experience staff shortages, Cabarrus College continues to be part of the solution, adding new academic programs and improving affordability that will help fill these essential healthcare positions.
The new semester marked new beginnings for the college's traditional and accelerated Bachelor of Science in Nursing (BSN) programs and the Bachelor of Science in Respiratory Therapy program. All three programs celebrated their first cohort of students, bringing the college's total number of programs to 17 in 10 different disciplines.
New Academic Additions
The inclusion of two new nursing programs increases the number of nursing programs to five with a combined enrollment of 454 nursing students. These new programs allow students to begin their healthcare journey. "I decided from a very young age that I wanted to be a nurse because of my love for helping others, and I am very excited to start my journey at Cabarrus College this fall," said Lauren Harrison, an incoming transfer student into the traditional Bachelor of Science in Nursing program.
"The breadth of nursing options we now offer is incredible," said Dean of Nursing, Dr. Cris Eudy. Students can now choose between two-year and four-year nursing degrees, they can build on a prior degree to become a nurse with Cabarrus College's Accelerated BSN program, or they can advance their careers with the college's RN-to-BSN and MSN programs.
The college's new respiratory therapy degree is the most recent addition to its expanding allied health sciences programs. The three-year degree is the only hospital based accelerated bachelor's program in North Carolina. "The need for respiratory therapists is particularly acute due to the long-term effects of the COVID-19 pandemic," said Lanny Inabnit, Program Chair of the Bachelor of Science in Respiratory Therapy program. "So, the timing is right for us to add this degree."
Recently, a new Master of Health Sciences program received full accreditation by the Southern Association of Colleges and Schools Commission on Colleges (SACSCOC) and will be accepting new students in January 2024. The program core focuses on the complexity of healthcare delivery in the United States and the knowledge necessary to be a successful leader, including healthcare business and finance, statistics, and a survey of the unique legal and ethical issues that confront healthcare leaders. "Offering healthcare-specific graduate education like this aligns with our mission and our long-term growth objectives, and we're excited to offer this graduate degree that we will continue to build upon," said Cabarrus College President, Dr. Cam Cruickshank.
Cabarrus College is also expected to launch a new Bachelor of Science in Community Paramedicine program next fall to address the changing frontline of health care. This new program will be a bachelor's completion degree that prepares certified paramedics for a new role – using their skills they've learned to save lives in emergency situations to improve lives and long-term health through consistent in-home care. "The future of healthcare is bringing care to patients where they are most comfortable – at home," said Dr. Cruickshank. "Cabarrus College is at the forefront of this evolution in healthcare with our new Bachelor of Science in Community Paramedicine."
Cabarrus College also introduced two new academic minors – Health Professions Education designed for those interested in health care education and Holistic Medicine, which focuses on alternative methods of treatment. In addition to these new minors, Cabarrus College offers a minor in Leadership and Management that prepares students to be in a leadership or supervisory role in health care and a minor in Biology to help students advance into physician assistant school.
Cabarrus College, in partnership with the Cabarrus County System and Atrium Health, launched the Cabarrus Health Sciences Institute (CHSI), an early college high school. CHSI was designed to expand students' opportunities for educational and career success in the health sciences. The early college focuses on first-generation college students, low-income families, students of color, students from diverse backgrounds, students who are at risk of dropping out before attaining a high school diploma, and students who would benefit from accelerated academic instruction. This fall, 57 CHSI students began classes on Cabarrus College's campus.
Making College Accessible and Affordable for All
Cabarrus College made major strides to increase affordability by creating generous scholarships and financial aid packages. In fact, 95% of students receive financial aid, with awards averaging nearly $14,000+ per year. Direct-from-high school scholarships include the Cabarrus Cares Scholarship which covers up to one hundred percent of tuition and general fees, after expected family contributions and other grants and scholarships are applied, for students from North Carolina who also demonstrate financial need. Merit Scholarships are also available based on high school academic performance and standardized test scores.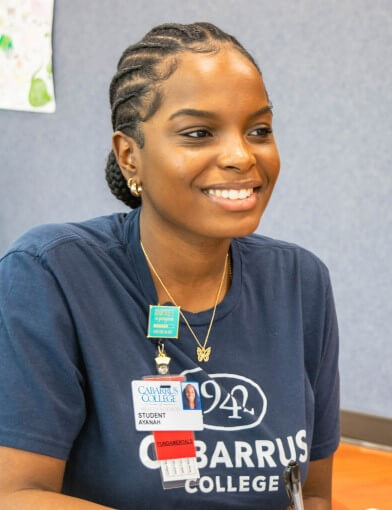 These scholarship programs are helping fuel the healthcare pipeline to meet community needs. As a recent high school graduate, Ayanah Wehner wanted to receive quality education and support to pursue her aspirations in the nursing field. "Before I enrolled at Cabarrus College, I contemplated which institutions would be the most fulfilling for me. With assistance from the Cabarrus Cares Scholarship, I was granted the opportunity to continue my education through the ADN program, which will provide me with the tools to become the healthcare provider I've always envisioned myself to be.," said Wehner, a current ADN student.
Cabarrus College understands the importance of transferability, so transfer student scholarships were created to make it easier for transfer students to attend. The College partnered with Central Piedmont Community College, Rowan-Cabarrus Community College, and Stanly Community College to create a North Carolina Community College (NCCC) Partners Scholarship. This scholarship is a need-based award for new students who enroll full time directly from those three partner community colleges.
Additional transfer scholarships were created for those students coming from any NC community college who are interested in pursuing an allied health or nursing degree. These North Carolina Community College Scholarships are merit-based awards for new transfer students who enroll full time directly from any NC community college. A Phi Theta Kappa Transfer Scholarship is also available for new transfer students who are members of Phi Theta Kappa, the national honor society for two-year colleges.
NC community college partnerships will not only provide financial support in the form of scholarships, but it will also allow for a seamless transition for students as they move from one institution to the other. "I learned about Cabarrus College while I was at Carteret Community College in the radiography program. What caught my attention the most was that it is a school that is dedicated to healthcare; there aren't many schools like that. This gives me an amazing opportunity to grow my network with other healthcare professionals to prepare for a physician assistant program," said Manan Patel, a recipient of the Cabarrus College Allied Health Transfer Award.
Nearly two years ago, an Atrium Health dependent Scholarship for full-time, dependent (as determined by the FAFSA) students whose parent/guardian is employed by Atrium Health was established. Cabarrus College is affiliated with Atrium Health and is on the campus of Atrium Health Cabarrus. Its students are a part of more than 2,000 degree-seeking students within Atrium Health and are among more than 15,000 learners within Advocate Health. Atrium Health and Advocate Aurora Health officially combined to become Advocate Health in December 2022.
This fall, Cabarrus College has awarded more than $98,000 in institutional scholarships, up 964% from the previous year, with a 933% increase in the total amount of students receiving institutional scholarships. Across all scholarships and funding, more than $1.3 million has been distributed. The amount distributed is a 10% increase compared to last fall and a 23% increase in the total number of students benefiting from these funds.