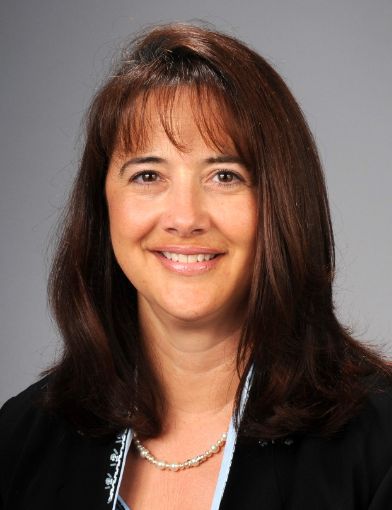 Debbie Allder, MSN, RN, CNE, Associate Professor, School of Nursing, Cabarrus College of Health Sciences, moved to Charlotte in 2001 from California. It was during her time there that she found her love for nursing through her father. "My father was a volunteer EMT-paramedic, which sparked my interest in nursing at the age of four," she said. "It has always been what I wanted to do." She started her "career" early in her teens, volunteering at the hospital, and eventually moved into the role of unit secretary until she graduated with her Bachelor of Science in Nursing (BSN) at the age of 23.
While in California, Debbie also developed a love for teaching and was able to advance in her career as the supervisor/educator of her department. "It was a good fit, and I enjoy teaching," she said.
When she eventually moved to Charlotte, she found a part-time teaching job at Cabarrus College as a clinical instructor for the associate degree nursing (ADN) program. But she knew she wasn't happy stopping there and wanted to do more with her career.
Taking the Plunge
For Debbie to teach beyond the clinical level, she needed to be a full-time teammate and hold a master's degree. With the help of Atrium Health's EdAssist, Debbie was able to pay for school, earn her master's degree in nursing education from Gardner-Webb University in 2006 and teach full-time in the ADN program at Cabarrus College.
During the completion of her master's degree, she was eligible for a new opportunity with more flexibility, a full-time online RN to BSN teaching position. "This role allowed me to work from any location in case I needed to be present to care for my parents, who live out of state," she says. "Online teaching fits the bill; however, I could not do this and incur additional debt."
Debbie was not done there; her dream was to teach bachelor level courses. "Cabarrus College expanded our program offerings to include two new BSN programs, so I wanted to be prepared and qualified," she says. Debbie accepted that challenge and is currently enrolled in a Doctor of Nursing Practice: Leadership & Education program at Gardner-Webb University, while simultaneously working full-time teaching courses for both ADN and RN to BSN programs.
Overcoming Barriers
Although Debbie was committed to pursuing her doctorate, she knew she was going to face some barriers when it came to managing school, life and working. She stated, "Definitely the time to get it all done was the biggest barrier, and for my master's degree, having to learn more about technology." But she was dedicated to overcoming and balancing her life for this future career growth. "Setting boundaries and dedicating set times for homework each week was my personal plan," she said.
She shares that during this stressful time, Atrium Health was able to support her and give her the flexibility she needed. "My two immediate supervisors were very supportive in both advising me on project concerns and accommodating my schedule when needed," she said.
Impact of Educational Assistance
Debbie heard about EdAssist when she started her job at Cabarrus College 20 years ago. She says, "The program has come a long way since then, allowing teammates additional education and career advancements. To be a nurse educator in programs beyond an associate degree, a doctoral degree is required. Because I received state loan forgiveness and EdAssist, I will have no debt when I graduate."
For Debbie, this is a huge deal to go back to college and get her doctoral degree. She is a first-generation college graduate and remains the only child of four siblings with a degree higher than an associates. She shares, "It has been surreal, honestly, to think I will hold a doctorate degree soon."
Words of Advice
Debbie will be graduating this July and continuing her career as an Associate Professor. She is excited for what the future of leadership has to offer her. Debbie is very grateful for Atrium Health EdAssist. "Without the EdAssist funds, I am not sure I would have taken the plunge," she says. "Knowing that you can go back to school with minimal to no debt is a game changer! Why NOT take advantage of that opportunity?"
As Debbie looks back on her career, she says, "One thing that Atrium Health and my degree have taught me is that nearly everyone out there is capable of earning a higher education. It does not take intelligence nearly as much as it takes sheer determination, grit, perseverance and support."
The EdAssist benefit allows teammates to progress in their careers and earn their associate or bachelor's degree with minimal commitment and endless flexibility. To take advantage of your EdAssist benefit, like Debbie did, please visit the
Educational Assistance page
on the Career Development Center teammates site.