Spring 2022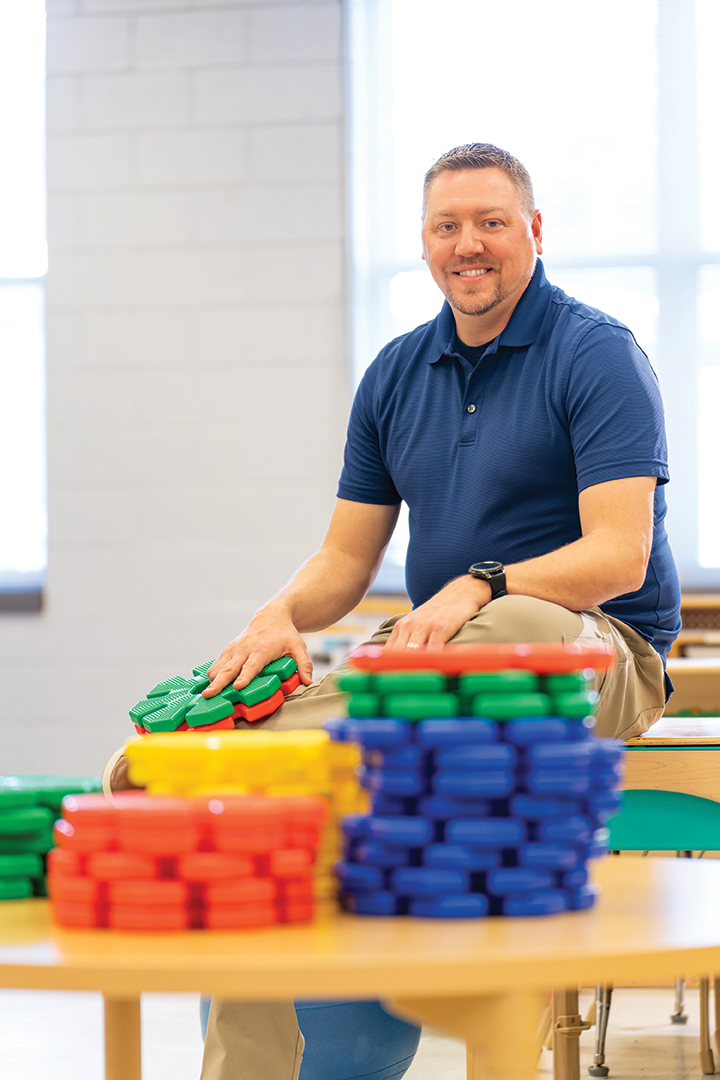 For a massage therapist, your hands are your lifeline. So, when Brandon Scott, MOT, OTR/L, '08, '15, '16 MOT broke his hand, he found himself in a bind. Opting for surgery to get back to work faster, Scott realized he needed a long-term plan — a degree that would allow him to support his family and make a difference. After surgery, Scott worked with an occupational therapist (OT), who had him back to work in six weeks. That experience sparked his interest in pursuing a career in occupational therapy.
"Even though I had a certification in massage therapy, I wanted a degree in something I could always fall back on. I wanted a career with many opportunities and where I could help people and change lives."
Scott enrolled in the Occupational Therapy Assistant (OTA) program at Cabarrus College. Being a husband and a father, Cabarrus College offered the best package — it was local, offered some online courses and provided generous financial aid.
The Addition of Allied Health Programs
Eighty years ago, Scott would have never had the opportunity to pursue his newly discovered passion for occupational therapy. Well, at least not at Cabarrus College.
The Cabarrus Hospital School of Nursing was officially named the Louise Harkey School of Nursing in 1992, marking the school's 50th anniversary. In August 1995, the school was relocated and by January 1996 it had become the cornerstone of the new Cabarrus College of Health Sciences, which was renamed in preparation for the addition of new course offerings and allied health programs.
"Allied health programs benefit the community because they contribute to the workforce of surrounding hospitals, community clinics, home health and school systems that employ allied health professionals, who assess and develop intervention plans for their clients, teach and train other healthcare professionals and students, and contribute to the overall health and well-being of the client," said Jacqueline Mayo, OTD, OTR/L, program chair of the Master of Occupational Therapy (MOT) program.
Cabarrus College launched allied health programs to support the hospital's new allied health division, adding Surgical Technology, Medical Assisting, Occupational Therapy Assistant and Life Sciences programs.
"By providing OTA and surgical technology programs, our students are serving our communities and I love that our students can have those experiences. The college is educating students who can go back to their communities and serve as practitioners," Scott said. "By diversifying and opening the college up to more programs, especially allied health fields, you allow students to find a field that fits them. There are a lot of ways to help, and I love that our college is really wanting students to be able to do that."
Over a Decade of Practice
After graduating as a certified occupational therapy assistant (COTA), Scott was hired at one of the facilities where he completed his fieldwork as a student. While working in a pediatrics private practice clinic, he was asked to serve as an adjunct faculty member in the OTA program at Cabarrus College.
"I was able to take the job I had enjoyed and use some of those skills to give back to the college," he said.
In 2014, while he was teaching at Cabarrus College, the college launched its OTA-to-OT bridge program. Having already taken courses with the intent of going into an advanced degree program, Scott enrolled into the bridge program, forcing him to give up his adjunct role.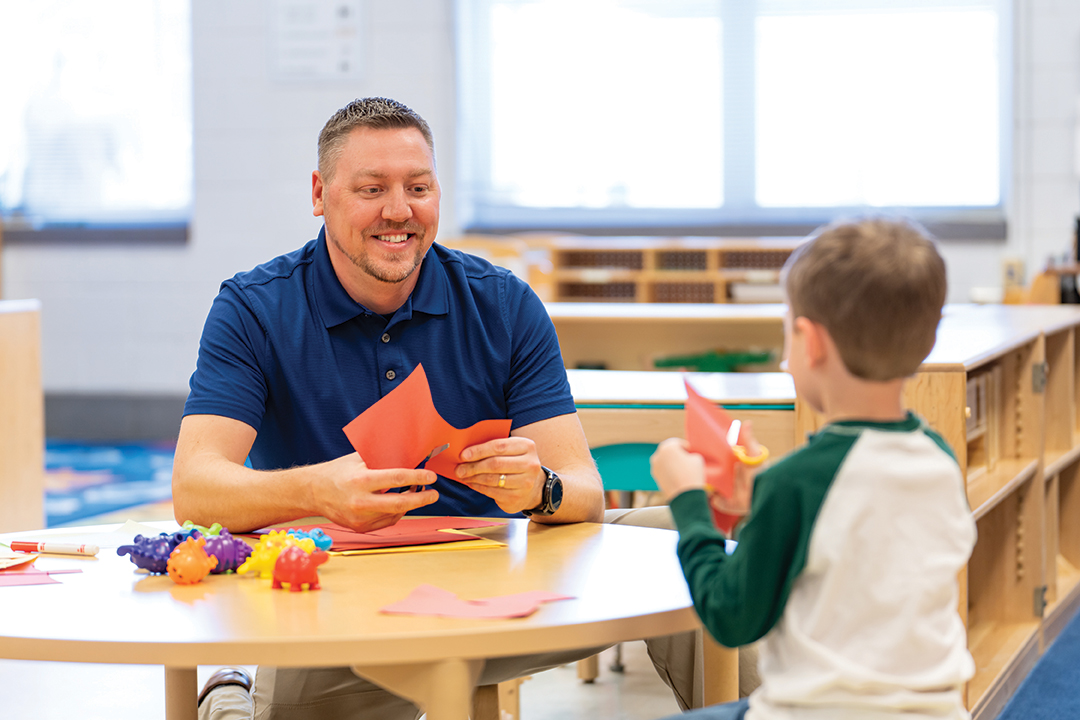 The bridge program was key for Scott, who ultimately wanted to become a registered occupational therapist (OTR). It allowed him to earn his Bachelor of Science in Interdisciplinary Health Studies before going straight into the master's program.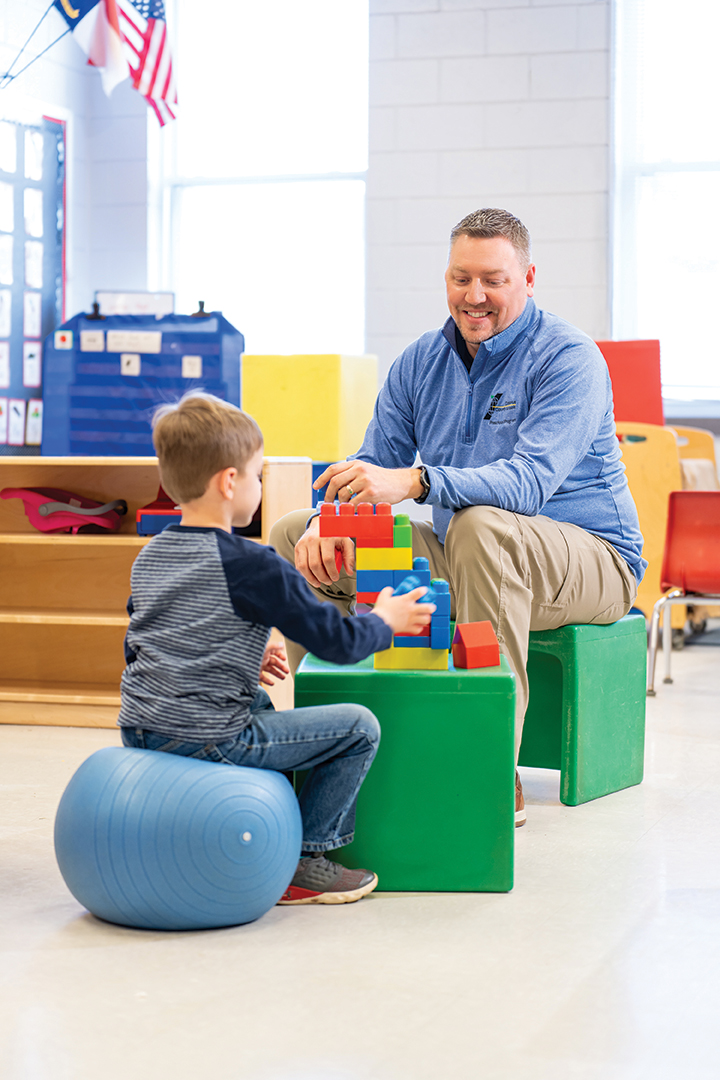 "Getting a master's degree in OT is beneficial because it improves job options and flexibility for the OTA who transitions to an occupational therapist. There are work settings such as schools or outpatient clinics that may hire fewer OTAs than OTs," Mayo said.
The bridge program and the addition of the MOT program was a response to growing requests from alumni who wanted a local master's program in OT and to meet the region's increasing need for OTs. It was the first master's program awarded at the college.
With his master's degree in hand, Scott was able to accomplish his goal of being an OTR. And he's taken advantage, having worked in almost every area of OT you can imagine. And it all led him to his current role.
"I want to help people. I've always had this drive and I feel like I was put there for a reason and a purpose. And my purpose is to help people, whether that's by teaching them something, giving back to the community or helping somebody," he said.
And he's doing just that as an occupational therapist for Cabarrus County Schools. He works at the preschool at the Mary Francis Wall Center, where he evaluates 3-year-olds and sets them up with programs and services to help them be successful by the time they attend school. He also serves on the advisory board for the OTA program at the college.
Future of Graduate Programs
The MOT was the start of the college's expansion into graduate education. In 2020, the Master of Science in Nursing degree was offered. And as the college continues to answer the demand for healthcare professionals in our local hospitals and communities, graduate programs will continue to be added with the hopes of providing a plethora of advanced degree programs for alumni like Scott.