Spring 2022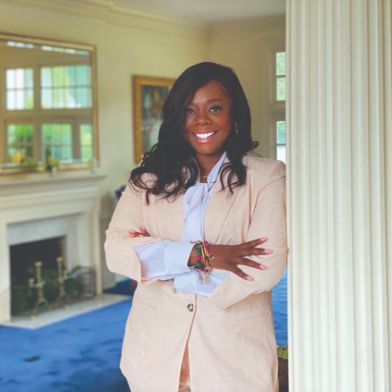 Rachel Harris '16 is a testimony to the power of education and positivity. She had her first child when she was 17 and estranged from her birth family, but she managed to earn her GED and graduate with a radiography degree by the time she was 22.
Her son was her "driving force," she said. "Education was my first bridge to being able to work and take care of my child without public assistance." Harris longed to get her bachelor's degree, but working to support her children took priority. Discouraged by housing costs in her home state of New York, she and four sisters from her adopted family moved to Kannapolis, NC, in 2005. They built five houses on the same cul-de-sac ("We are our own village," she said), and Harris quickly found work as a CT technician.
She eventually became friends with Rhonda Weaver, a peer who got her bachelor's degree at Cabarrus College, went on to chair the Bachelor of Science in Medical Imaging program and encouraged Rachel to apply. "I just felt at home there," said Harris, who graduated summa cum laude. "It's the personal touch," from the professors with an open-door policy to the financial aid staff who were instrumental in helping her attend.
"Not only did they teach us the practical side, they helped us with our patient care skills and to see the patient as a whole individual. The impact is huge. Cabarrus College is helping the community every day by empowering health professionals to give professional care with compassion and love."