Spring 2022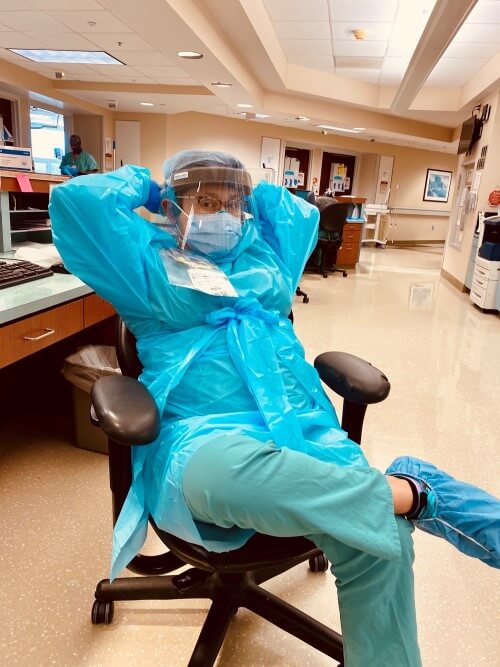 As a member of the Navajo Tribe, Taylor Barber '22 was raised to take care of people, to take care of her family and to ensure that everyone in her community was taken care of and looked after before taking care of herself. It was that upbringing that planted a seed of caring and nurturing inside of her.
But it wasn't until Barber was an undergraduate at the University of Arizona when she realized her true calling. While studying astrophysics and aeronautics at the University of Arizona, with plans of working for NASA, Barber took an anatomy and physiology course that changed the trajectory of her career.
During her clinical experience for the course, Barber went to the university medical center, where she got the opportunity to look at ultrasounds, x-rays and MRIs, while getting a feel for anatomy. It was there, where her affinity for nursing was born and she wanted to grow that seed that was planted so long ago.
"Going through clinicals, seeing the nurses in action and understanding what they do daily, I felt like being a nurse was adhering to my calling, my upbringing and what my grandfather always instilled in me. That's when I knew this is where I need to be," Barber said.
Six years ago, Barber moved with her family to Concord, NC, from Phoenix, AZ. Taking on a new adventure, she decided this was the perfect time to pursue her new passion. Barber accepted a position as a nurse's aide on the observation unit at Atrium Health Cabarrus with plans of eventually enrolling in a nursing program.
"I knew I always wanted to work in a hospital, so this position gives me an insider perspective. Getting to work alongside all the nurses, helps me see exactly how nursing works in the hospital setting versus an in-home or nursing home setting," she said. "I took the job because I wanted to see what it's like in a hospital scenario and within the hospital system. It's a great stepping stone into the nursing field."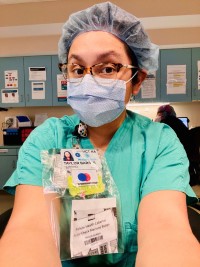 Barber learned about Cabarrus College of Health Sciences through her position with Atrium Health Cabarrus and was attracted to the small class sizes, the individualized attention, and the student-to-teacher ratio.

"Working for Atrium Health, knowing the system and its values, Cabarrus College is an easier transition than going from here to UNC Charlotte," she said. "I really loved the smaller class sizes, the in-person curriculum, and the fact that it is affiliated with Atrium Health. It was a no-brainer."

Now a student in the Associate of Science in Nursing program, Barber is pleased with her college choice. "What I enjoy most about the college is the instructors," she said. "At universities, they have 350 students or more in a lecture and could care less if you pass. Whereas these instructors, I feel like they get to know you. Most of them have worked in the field or are working in the field, so they know what it's like. They know what you're going through, and they know what you must do to be successful. That's one of the things that has really helped my learning, how personable these instructors are and how supportive they are. I haven't met all the professors, but all the ones I've met, they're wonderful. They are all like a wonderful bag of gems that are just scattered about the college."

Barber was also attracted to Cabarrus College because of the amount of scholarship support and financial aid the college offered. She is the recipient of the Lettie Pate Whitehead Scholarship and the North Carolina State Need-based Scholarship. As an Atrium Health teammate, she's also part of the Atrium Health Loan Forgiveness program, which enables her to repay her loan by working at Atrium Health.

"Although Cabarrus College is a private school and more expensive than some colleges, given the scholarship support and the loan forgiveness option, they've really made my goal of becoming a registered nurse and getting that degree attainable," Barber said. "It's incredible."

As for next steps, Barber's clinical experiences in the operating room (OR) as a student at Cabarrus College helped her realize she enjoys the adrenaline of the OR environment. After she earns her degree and gains experience as a registered nurse, she would like to work in an intensive care unit to better prepare for her goal of becoming a certified registered nurse anesthetist or a flight nurse.

When Barber isn't studying or working, she enjoys spending time with her husband and 3-year-old son, in addition to being an avid gardener. She takes care of exotic plants and is jokingly known around the hospital as the clinical herbologist.