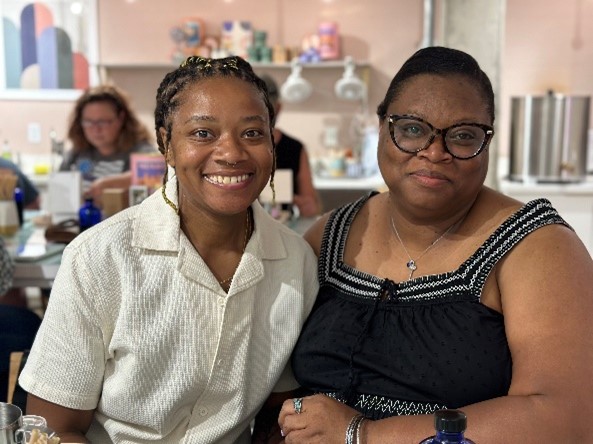 Originally from Cleveland, Ohio, Tiffany Smith's road toward a career in nursing was not always a straight and narrow path. After receiving her bachelor's degree in business administration from the University of Cincinnati, she began her career in the sports compliance field. Smith had the opportunity to work in collegiate athletics in the compliance department, managing NCAA compliance and eligibility.
Smith wanted something different, so she moved to North Carolina to take a coaching job at Catawba College. She coached lacrosse and worked in the athletic department while she was finishing up grad school at Drexel University. However, she wanted to be more involved in the community and had the chance to go back to school, so she began her prerequisites for nursing school.
From Nursing School to CVICU
Smith was able to receive her Certified Nursing Assistant (CNA) license and started her first job in the hospital as a CNA working on a cardiac telemetry floor at Atrium Health Mercy. "I loved being able to care for patients and see the full circle moment of them coming in, being really sick and then getting to go home," Smith said.
Once Smith had that experience, she knew she wanted to be a nurse. "I saw how involved the nurses were in patient care and their interactions with physicians and the advanced practice providers, and I was like, yeah, that's where I want to go," Smith said. So, she finished her prerequisites and then got into Cabarrus College of Health Sciences in 2019 with the help of the Atrium Health RN Educational Assistance program.
During Smith's last year at Cabarrus College, she started interviewing at Atrium Health Pineville cardiovascular intensive care unit (CVICU). She wanted to stay on the same floor she worked on as a CNA, and she received and accepted an offer. "Since my start in CVICU, I've learned and grown a lot during my short four months of being an RN on that floor," Smith said.
More Work to Do
As Smith got closer to graduation, she knew that she wanted to continue her education but did not know in what capacity. During her first couple of months of being on the CVICU floor, she saw a huge gap and disparity in access to care, and she wanted to do something about that. So, she started researching programs that could provide her patients with resources they would be able to access once they were no longer inside the four walls of the hospital. And so, she has applied to graduate school at the University of North Carolina at Charlotte to obtain her Ph.D. in Public Policy to help the disenfranchised communities she serves.
"I want to leave a legacy, and if I can in any way impact someone's life or make it easier so they don't have to struggle to get what it is that they need to be healthier, then I will do it without question," Smith said.
While waiting for a response from graduate school, she started researching opportunities for internships and like-minded organizations that could help connect her with community leaders to potentially start programs or be involved in programs that help close gaps in disparities for patients. This led Smith to the South Piedmont Area Health Education Center (AHEC) Scholars program, which aims to improve the diversity and distribution of all health professions and support the transformation of healthcare across North Carolina. The Scholars program is very competitive, intense and requires a two-year commitment.
The Scholars program recruits, trains, and supports a diverse group of students enrolled in health professions programs across an eight-county region in North Carolina. Smith recently learned that she has been selected for the program and is determined to help change the lives of her patients. "Historically, minorities have not had access to the adequate care they need to prevent major health issues, and I want to change that," Smith said.